31 Members attended the 3rd Network Meeting of 2015 in the Lough Allen Hotel on Thursday last.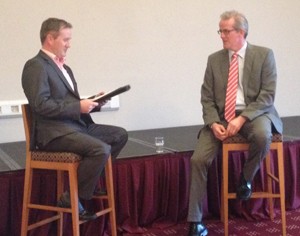 CEO of Cora Systems, Philip Martin was interviewed by Network Facilitator, Johnny Beirne.
Cora System is now a world leader in Portfolio, Programme, Project and Performance Management software.
Founded in 1999, Cora Systems now employs 31 people in Carrick on Shannon with a further 10 staff in the UK.
Questions included:
How did you get started?
Why Project Management?
What was your first big break and how did it happen?
How was the business funded in the early days?
Did you work 24/7 at the beginning?
Behind every great man is a great woman – How is work/life balance now?
What do you tell your children you do?
Local Talent – Do you find it difficult to source/hire local talent?
Sensor Pro Example for Startup Galway – Did you ever feel like giving up?
What is 1 time since '99 that comes to mind that would prefer not to have to go through again?
How did you deal with it?
What is 1 high point that comes to mind and how did it happen?
How did you break into international markets?
What 3 things would you suggest to a business owner today?
What 1 thing would you do differently?
What 1 piece of advice would you give when it comes to sales?
What will Cora Systems look like in 2020?
Philip's answers included some great advice including seeing the positive in every negative, the importance of sales and setting up a board structure for your business.